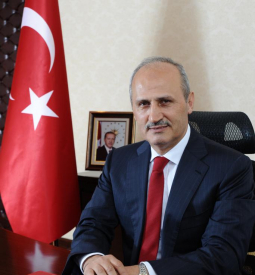 Mehmet Cahit Turhan
Minister of Transport and Infrastructure of the Republic of Turkey
Mr. TURHAN was born in Trabzon in 1960.
He received his license degree in 1981 from Civil Engineering Department of The Faculty of Engineering and Architecture, Karadeniz Technical University.
He started his professional life as an engineer in the Turkish Highways Authority in 1985. He served as supervising engineer, bureau engineer and control supervisor within the structure of Turkish Highways Authority.
Mr. TURHAN worked as Highway Maintenance Operation Chief Engineer, Deputy Regional Director and Regional Director of İstanbul 17th Highways Regional Directorate starting from 1995.
After working as the Deputy General Director of Turkish Highways Authority, Mr. TURHAN served as the General Director of Highways in 2005-2015 period.
After his retirement from the Office, he worked as Principal Advisor of the Presidency and then Member of the Council of State. After retirement from the Membership of the State Council, Mr. TURHAN became the CEO of the consortium to have undertaken the construction of North Marmara Highway Project.
Mr. TURHAN was appointed by H.E. Recep Tayyip ERDOĞAN on 9 July 2018 as the Minister of Transport and Infrastructure of the Republic of Turkey.
He is married with three children.