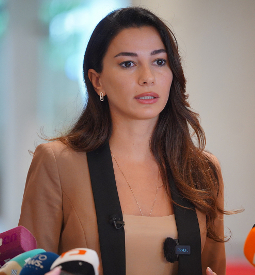 Mariam Kvrivishvili
Deputy Minister of Economy and Sustainable Development of Georgia

Mariam Kvrivishvili is currently the Deputy Minister of the Economy and Sustainable Development of Georgia (leading Tourism, Aviation and Mountain Resorts direction of Georgia) and member of political bureau of the ruling party - Georgian Dream.
Previously she served as a member of the Parliament of Georgia, as First Deputy Head of European Integration Committee and chairperson for Open Governance.
From 2019-2021 she held the position of the Head of the Georgian National Tourism Administration, where she implemented and lead fundamental changes in National Tourism Strategy. She emerged as a key leader through her innovative approach to implementing sustainable development values and effective policies in the Georgian tourism industry.

Ms. Kvrivishvili has developed an exciting and extensive career both in the public and private sectors with years of experience in the hospitality, aviation, and tourism sector on managerial levels.

She holds a Bachelor's Degree in Marketing from International Black Sea University and is a Candidate for a Master's Degree in MBA from ESM Business School. Furthermore, she has established an impressive professional network as a scholar at the University of California, Berkeley.
Awards: National Award "For Significant Contribution in Georgian Tourism Industry" (2017)