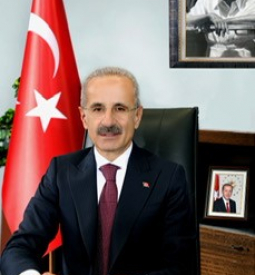 Abdulkadir URALOĞLU
Minister of Transport and Infrastructure of the Republic of Türkiye
Abdulkadir URALOĞLU was born in 1966, in Trabzon.
After graduating from Karadeniz Technical University Civil Engineering Department in 1988, URALOĞLU started to work in the private sector in the same year.

URALOĞLU started his bureaucratic career at the General Directorate of Highways in 1989 and then he continued to work in various positions in the same General Directorate. In 2018, URALOĞLU was appointed as General Director of Highways.

Since 4 June 2023, he has been serving as the Minister of Transport and Infrastructure of the Republic of Türkiye.

Abdulkadir URALOĞLU is married and has three children.