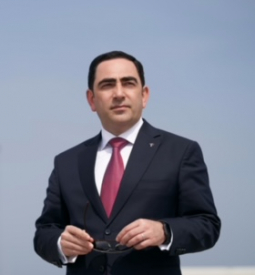 Taleh Ziyadov
Director-General of Port of Baku, Azerbaijan
With extensive professional experience in logistics management and supply chain, as well as business development on regional and national levels, Dr. Ziyadov brings operational leadership and innovative attitude to the position as Director-General of the Port of Baku.

He was appointed as the DirectorGeneral of "Baku International Sea Trade Port" CJSC (Port of Baku) by the President of the
Republic of Azerbaijan, H.E. Mr. Ilham Aliyev on November 17th, 2014.

Under his leadership, the Port of Baku has become a leading port in the Caspian region to implement exemplary solutions in the areas of digitalization, operational efficiency and sustainability. By integrating environmentally friendly practices in the port's activities, operations and management, the Port of Baku became the first port in the region to develop the net-zero emission "2035 Climate Action Plan" and to be awarded an "EcoPort" certificate by the European Sea Ports Organization (ESPO) in 2019.

Prior to his appointment at Port of Baku Dr. Ziyadov served as Deputy Executive Director of the US-Azerbaijan Chamber of Commerce (USACC) in Washington, DC, and as Associate Dean for Academic Affairs and Senior Research Fellow at the ADA University. Dr. Ziyadov also has advised several private and public companies as well as international organizations working in continental transports and logistics.
In addition, Dr. Ziyadov was elected as a president of Azerbaijan Badminton Federation in December 2021 and responsible for directing nationwide development of badminton as an Olympic sport and strengthening its international cooperation.

Dr. Ziyadov received his bachelor's degree from Beloit College (USA) in management, a Master's degree from the School of Foreign Service at Georgetown University (USA) and a Ph.D. degree from Cambridge University (UK) in political science and international studies. Dr. Ziyadov is the author of the book "Azerbaijan as a Regional Hub in Central Eurasia" (Baku: ADA, 2012), which provides a strategic analysis of the Euro-Asian trade and transportation networks through Central Eurasia, outlining the vision for developing Azerbaijan into a regional hub by 2030. Dr. Ziyadov is also a co-editor of the book, titled "Beyond the Resource Curse" (UPENN: 2012).