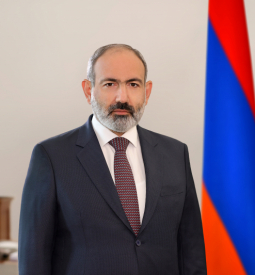 Nikol Pashinyan
Prime Minister of the Republic of Armenia
Nikol Pashinyan is the Prime Minister of the Republic of Armenia since May 2018.

Since 1992, he had been actively engaged in journalism. He was on the staff of Dprutyun, Hayastan, Lragir, Lragir-Or and Molorak newspapers. In 1998, he founded Oragir daily, which was closed down by a court decision in 1999 for political reasons. In 1999, he was appointed editor-in-chief of Haykakan Zhamanak daily and held the post until 2012.

In the general elections of 2012, he was elected to the National Assembly by the proportional list of the Armenian National Congress Alliance. In 2012-13, he was Chairman of the NA Ethics Committee. From May, 2017, he headed National Assembly's Yelk parliamentary faction.

In 2013, he founded the Civil Contract public-political association. From 2013 to 2015, he was on the governing board of Civil Contract public-political association. Since 2015, he has been a board member of Civil Contract party. In May 2016, he was the commander of Civil Contract party volunteer detachment.

On March 31, 2018, he initiated the My Step movement in Gyumri's Vardanants Square, which resulted in a non-violent velvet popular revolution in April-May of the same year. On May 8, 2018, at the request of the popular movement, he was elected Prime Minister of the Republic of Armenia in the National Assembly.

Nikol Pashinyan was twice re-elected as the Prime Minister of the Republic of Armenia. The first time he resigned in line with the electoral pledge, and the second time for the purpose of resolving the internal political situation in the country.
Mr. Pashinyan studied at the Yerevan State University in 1991-1995 in the faculty. In the fifth year of graduation, he was dismissed from the YSU for political reasons.

He is married with three daughters and a son.

Besides his native Armenian, he speaks English and Russian.