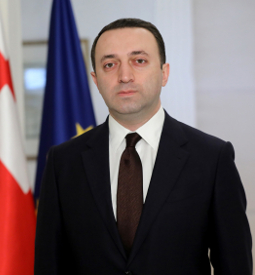 Irakli Garibashvili
Prime Minister of Georgia
Irakli Garibashvili is a Georgian politician currently serving as the Prime Minister of Georgia since 2021. He previously served as the Prime Minister from 2013 until 2015. Garibashvili began his political career in 2012 as a founding member of the "Georgian Dream" party, which won elections that same year. He also served as Minister of the Interior from 2012 to 2013 and Minister of Defense from 2019 to 2021.

Throughout his various mandates and official positions, Garibashvili and his government have led numerous constitutional, economic, electoral and judicial reforms, while accelerating Georgia's progress towards European and Euro-Atlantic integration. In 2014, Garibashvili signed the EU-Georgia Association Agreement, and in 2022, submitted Georgia's application for membership of the European Union. In addition, he launched the Peaceful Neighborhood Initiative, aimed at fostering peace and stability in the South Caucasus region.

From 1999 to 2004, Garibashvili studied international relations at Tbilisi State University (TSU). He continued his studies at the Université Panthéon-Sorbonne in France from 2002 to 2004. Garibashvili is fluent in Georgian, English, French and Russian. He is married with four children.