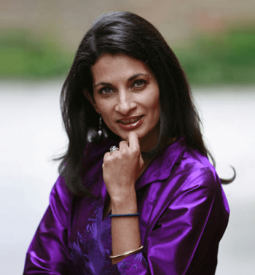 Nisha Pillai
International Moderator and journalist
Nisha Pillai is an accomplished former news presenter with BBC World News who now specialises in moderating Panel Discussions and High Level Dialogues. Her areas of expertise span a wide range of subjects including economics, the Energy Transition, finance and healthcare. Nisha has extensive experience moderating global conferences on HIV and Dementia.
She has also run large ministerial meetings and consultations for UN agencies like UNDP, UNHCR, UNICEF, UNIDO and UNAIDS. Another ongoing client is the scientific research institute at CERN, where Nisha was initially involved in preparing senior scientists for media interviews in the run-up to the launch of the Large Hadron Collider. She has also provided strategic advice to the Director General of CERN on media issues.

Before branching out into international moderation, Nisha enjoyed a twenty-five year career at the BBC as a senior news anchor and investigative reporter. For several years, she was one of the best-known faces of BBC World News and fronted the acclaimed programme, Asia Today. She has extensive experience of anchoring live programming during the 9/11 attacks, the Iraq and Kosovo wars and the invasion of Kabul.

As an award-winning investigative journalist at the BBC's flagship current affairs programme, Panorama, Nisha had notable investigations to her name. She was awarded the Royal Television Society's Award for best current affairs programme for 'The Max Factor' - her investigation into the late media tycoon Robert Maxwell's sprawling business empire, which was broadcast a month before his death. Nisha was also one of the first regular interviewers on Hard Talk, the BBC's half-hour long interview programme.