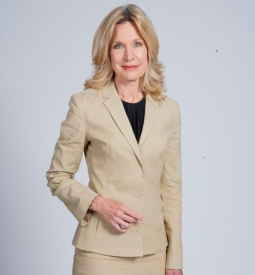 Melinda Crane
Senior Political Analyst at Deutsche Welle TV
Dr. Melinda Crane has more than two decades of experience moderating events and discussions for a wide range of multilateral institutions, civil society organizations, national ministries and firms. She began exploring issues of development cooperation, financing and capacity support during her doctoral research in Africa and has continued to focus on these throughout her career as a moderator, facilitating events hosted by international development partners ranging from the German Foreign Office and Ministry for Economic Cooperation and Development to UNESCAP, UNDESA, UNDP as well as the OECD Development Committee, the EBRD, the World Bank, the OPEC Fund for Development, KfW and more. For over 15 years she has worked with clients involved in shaping the climate and sustainability agenda, including UNFCCC, the UN High Level Political Forum, IRENA, the Potsdam Institute for Climate Impact Research, P4G, the R20 Austrian World Summit and more.

Dr. Crane studied history and political science at Brown University and law at Harvard. She wrote her dissertation on the political economy of development assistance at the Fletcher School of Law and Diplomacy. Her research and fieldwork took her to the Institute für Ausländisches Wirtschaftsrecht at the University of Frankfurt as well as to Burkina Faso, Burundi and Ghana.
Her training as a political scientist, economist and lawyer have informed Dr. Crane's work as a journalist. Currently she serves as senior political analyst at Deutsche Welle TV and also hosts the DW talk show "To the Point". In a career spanning over 25 years, she has reported for German and US media on a wide array of international topics from countries across Eastern and Western Europe and Africa. A frequent guest and commentator on German television and radio, from 2008 to 2020 she regularly analysed US policy for the news broadcaster n-tv. As International Affairs Consultant to the discussion show "Sabine Christiansen" she produced interviews with international leaders including Kofi Annan, Bill and Hillary Clinton and George

Bush, among others. Her journalistic experience includes work for the "New York Times Magazine," "The Boston Globe Sunday Magazine," "The Boston Globe," the "Christian Science Monitor" and German newspapers and magazines.
In 2014 she was awarded the Steuben-Schurz Media Award for her service to transatlantic understanding. She is a trustee of the American German Institute based at Johns Hopkins University in the US.
Melinda Crane moderates in English and German and also speaks French fluently.