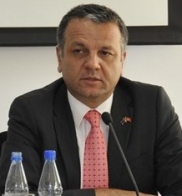 Vassilis Maragos
Acting Director for Neighbourhood East, Directorate General for Neighbourhood and Enlargement Negotiations
Vassilis Maragos is Acting Director responsible for Neighbourhood East and Head of Unit for Regional Programmes in the European Commission's Directorate-General for Neighborhood Policy and Enlargement Negotiations (DG NEAR).
Vassilis Maragos has dealt with EU external relations and enlargement since the 1990s. He served in the EU Delegations in Sofia and Skopje between 1996 and 2005. Since 2005 he held various posts related to enlargement policy and regional cooperation in South-East Europe.
Vassilis, who was born in Athens in 1963, has studied law and political science. He holds a PhD in Political Science from the University of Athens and a MA in International Politics from the Université Libre de Bruxelles. He has written and published essays on issues related to the EU and the history of the Balkans.