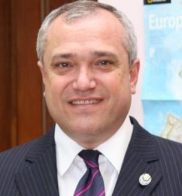 Mircea Ciopraga
Secretary General of the Permanent Secretariat (PS) of the Intergovernmental Commission (IGC) TRACECA
As Secretary General of the Permanent Secretariat (PS) of the Intergovernmental Commission (IGC) TRACECA Mr. Ciopraga leads activities of the TRACECA Programme. TRACECA is a widely recognized international programme aimed at strengthening of economic relations, trade and transport communication in the regions of the Black Sea basin, South Caucasus and Central Asia. Today the TRACECA route comprises the transport system of 13 member states of the "Basic Multilateral Agreement on International Transport for Development of the Europe-the Caucasus-Asia Corridor". The Intergovernmental Commission TRACECA aims to ensure the efficiency and reliability of Eurasian transport links, promotion of effectiveness and appeal of the Europe-Caucasus-Asia corridor, as well as cooperation with the interested financial institutions.
As President & CEO of the Aero Consult Services S.A. in Bucharest, 2012-2014, the main activity of Mr. Ciopraga was concentrated on drafting, promoting and financing the project of the regional training center in the field of civil aviation as well as drafting of an investment project in the field of aero photogrammetry for governmental administrators of transport network (road and railways).
Mr. Ciopraga served as President of Board of Directors in S.C. Transelectrica S.A., responsible for establishing the main directions of activity and development of the company; governing the organization by broad policies and objectives, formulated and agreed upon by the chief executive and employees.
Mr. Mircea Ciopraga had also a political career. In the period of 2004-2008, he held following offices:
Member of Romanian Parliament, Chamber of Deputies
Vice-president of the Commission for Transport, Industry and Services of the Chamber of Deputies
Vice-president of the Parliamentary Assembly of the Black Sea Economic Cooperation (PABSEC)
President of the Romanian Delegation at the Parliamentary Assembly of the Black Sea Economic Cooperation (PABSEC) Projects and responsibilities