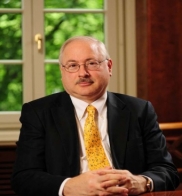 David Shark
Deputy Director-General of the World Trade Organization (WTO)
David Shark has had a long career in trade policy. He began in 1975 with a short stint in the US Department of Labor, working on petitions for trade adjustment assistance. In March 1976, he moved to the Office of Trade Policy in the Department of Commerce where he was deeply involved in the Tokyo Round of Multilateral Trade Negotiations and he has been actively involved in the GATT and WTO ever since.
In 1980, he joined the Office of the United States Trade Representative. He held a broad range of responsibilities, including serving as Executive Director of the US Generalized System of Preferences, Deputy Assistant US Trade Representative for Trade Policy Coordination, Deputy Assistant US Trade Representative for Europe and the Middle East and Deputy Assistant US Trade Representative for Environment and Natural Resources.
From 1988 to 1995 he served in USTR's Geneva office, working on the Uruguay Round of Trade Negotiations and the implementation of the resulting agreements. During that time, he was responsible for negotiations and other work on the agreement creating the WTO, the Dispute Settlement Understanding, TRIMs/investment, anti-dumping, subsidies, customs valuation, government procurement, technical barriers to trade, import licensing, trade and environment, and trade and worker rights. He returned to Geneva in June 2000 and up to September 2013 served as the US Deputy Chief of Mission and Deputy Permanent Representative to the WTO. In that capacity, he had broad responsibilities covering the full gamut of issues before the WTO.
Mr Shark is a native of Brooklyn, New York, and holds a Bachelor of Arts from Brooklyn College and a Master of International Affairs from Columbia University's School of International Affairs. He is married to Lidian Shark and has two children, Daniel and Melanie.