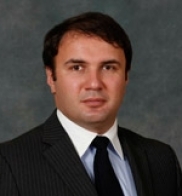 Alexander Bolkvadze
Partner and Founder of BLC Law Office
Mr. Bolkvadze is partner and founder of BLC law office. His practice areas include Business Law, Civil and Commercial Law, Energy Law, Real Estate and Construction Law, Privatization Law, Investment Law and Public International Law.
Prior to establishing our office in 2000, Mr. Bolkvadze worked as a senior counsel at the GCG law office in Georgia representing a variety of international businesses engaged in Banking & Finance, Oil & Gas sectors and project finance. Prior to this, Mr. Bolkvadze served as In-House Counsel for the US-Georgian Commercial Bank JSC Absolute Bank, representing bank on issues of Civil and Commercial Law, Banking and Finance and during litigation. Mr. Bolkvadze's experience includes judicial clerkship at New York Supreme Court First Judicial District preparing a wide variety of jury charges, writing opinions, drafting pre-trial motions and his work as a counsel at the UNHCR office in Tbilisi. Mr. Bolkvadze lectured on Contracts and Oil & Gas Law at the American University of Hawaii - Tbilisi Campus.
Mr. Bolkvadze is frequent speaker on various investment forums and conferences for and on behalf of the Georgian government on various aspects of investments in Georgia. Besides, Mr. Bolkvadze worked on drafting Construction Code of Georgia and he is an active participant and has serious interests in urban development matters in the capital - Tbilisi.
Mr. Bolkvadze's professional education includes Tbilisi State University Department of International Law and International Relations (J.D. 1994) and University of Notre Dame Law School (LL.M 1996).
With native Georgian, Mr. Bolkvadze is fluent in Russian, English and French languages.