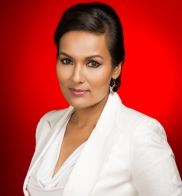 Sumnima Udas
CNN International's Delhi-based correspondent
Sumnima Udas is CNN International's Delhi-based correspondent. Udas is responsible for covering key political, economic, social, environmental and general interest stories from the country and presents CNN International's monthly series "The Silk Road: Past, Present, Future". Udas' recent assignments include reporting on President Barack Obama's historic visit to India, Prime Minister Narenda Modi's visit to the United States, the 2015 Sri Lankan elections as well as the Papal visit to the island nation. Udas covered the landmark 2014 Indian General Elections, the country's successful Mars mission and profiled Indian Nobel Peace Prize laureate Kailash Satyarthi.
Udas has been recognized at various prestigious fora for her sensitive reporting on gender issues ranging from sexual violence to the plight of acid attack victims. This includes being awarded the "Journalist of the Year" at the inaugural Women's Empowerment (WE) Journalism Awards in 2014 and the award in the "Outstanding multimedia story about South Asia, or the worldwide South Asians diaspora" category at the South Asian Journalists Association Awards, 2014. Udas was part of the team that was awarded the prestigious Cine Golden Eagle Award in 2012 for reporting on slavery in Indian villages, as part of the CNN Freedom Project.
Udas joined CNN as a news assistant in New York in 2001 and went on to pursue her postgraduate studies and freelance assignments before returning to the network in 2006. Udas received her Bachelor of Arts magna cum laude with honors in Broadcast Journalism and History of Art from Washington and Lee University, Virginia, USA. Shen went on to pursue her Masters Degree from Oxford University's Modern History faculty. She is fluent in English, Hindi, Urdu, Nepali and French.