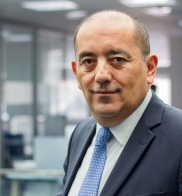 BRUNO BALVANERA
Director for Caucasus Moldova and Belarus European Bank for Reconstruction and Development (EBRD)
Bruno Balvanera joined the EBRD in 1996; currently he is Director for Caucasus Moldova and Belarus, based in Tbilisi. His experience covers wide variety of sectors, countries and products.
From 2008 to 2013 Bruno was the EBRD Head of Regional Development, based in Moscow responsible for the network of offices the EBRD has in each of the seven Federal Districts. For the 2 previous years, he was the Head of St. Petersburg office.
Prior moving to Russia, Mr. Balvanera was the Head of Business Development where he had the opportunity to engage with numerous potential investors into the EBRD Countries of operations.
Mr. Balvanera has extensive experience in structuring and negotiating the financing of the investments in developing countries including Latin America, and Central and Eastern Europe. He has been member of the Managing Board of different Companies.
Before joining the EBRD, Bruno Balvanera worked for Development Banks in Mexico as Investment Manager for projects both in the country and other jurisdictions mainly in Latin America and Caribbean.
Mr. Balvanera majored as an Industrial Engineer, and he then had a specialization in Finance and in Political Analysis. Few years later he obtained a Master in Business Administration from University of Chicago.