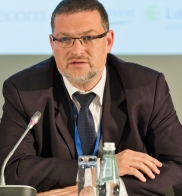 Radoslav Dudolenski
Managing Partner, Hydrolea LLC: hydro development and investment vehicle for Georgia
Mr. Dudolenski, born in 1976, is working as Executive Officer of hydrolea and Chief Executive of Crosscountry Capital (Bulgaria), since May 2013. Before that, he was working as General Director of Energo-PRO Georgia, the largest energy company in Georgia, and also was Member of the Board of Directors of the parent company, Energo-PRO a.s. During his years in Energo-PRO Radoslav was also responsible for the business development process of the Group in the Caucasus Region and Turkey. In Turkey, the main focus was the acquisition of HPP sites for greenfield constructions, cross-border trading (Georgia – Turkey); acquisition of existing hydros (negotiated and led the acquisition of 96MW in TK, a EUR 307mln deal); and in Georgia, the acquisition of 94MW HPPS and 110MW CCGT (USD 125 mln deals). He also led the negotiations and successfully completed the deal for the first privately owned (BOO) Back-to-Back HV line (350 MW) project between Georgia and Turkey.
In his career he had positions as CFO, Financial Controller and Corporate Finance/Recovery Consultant. For the past ten years Radoslav has been focused in the energy sector and had an opportunity to cover the South Black Sea basin - Bulgaria, Georgia and Turkey.
He holds B.A. from University of World and National Economy with major in Defense Economics and also B.A. in Accounting and is holding and EMBA from Cotrugli Business School.