News / WORLD ECONOMIC FORUM: HARMONIZATION OF REGULATIONS WITH NEIGHBORING COUTRIES IS ESSENTIAL
24 October 2015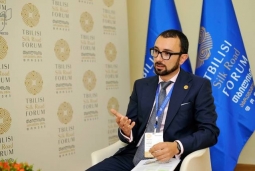 One of the participants of the Tbilisi Silk Road Forum, the World Economic Forum Regional Representative, Andrew Chakoyan, recommends Georgia to harmonize its laws and regulations with the ones of the neighboring countries. Andrew Chacoyan finds that Georgia needs to develop its infrastructure in order to further strengthen the trade relations and highlights the necessity of deepening the cooperation between the State and the private sector.
- What do you find to be a key massages of the Silk Road Forum?
Georgia is a link between Europe and Asia. I finds that trade relations is a sector where each country can succeed, but the cooperation between the neighboring countries, harmonization of the laws and regulations is essential since it will bring benefits to everyone. Having strong relationships with the neighbors is particularly important in terms of searching for a specific niche.
Georgia has very good positions in our rankings regarding the trade. It is on a much higher position than many other European countries. This ranking gives the clear picture of what should be done and where.
- What is the way of harmonizing of regulations?
It is optional and depends on the format you choose. This can be either side or versatile. There are many ways, but the essential factor is the mutual dedication. This does not include choosing partners - the main thing is to work on a global scale. All participants of the Silk Road Forum noted that harmonization of laws and regulations is absolutely essential. There are many examples of working with neighbors in the world and you can follow them.
- How can you evaluate Georgia's position in terms of trade between the countries of the Silk Road Belt?
Georgia is the leader and presenter of its own policies, the fact that the Silk Road countries gathered in Georgia indicates your leadership. I suggest that Georgia will continue this way. Stay as open as you have become through the reforms.
Georgia enjoys a good position in trade ratings and the reason is its open market. Our rankings will show you the directions you should work further. Georgia is a mountainous country, which has undergone a difficult economic period - you know very well that you should invest in infrastructure and roads. You are among the top-10 countries around the world regarding the openness of the market.
- How would you evaluate business environment in Georgia?
Georgia should better develop the public–private partnership (PPP). At the panel, the Minister of Economy confirmed the readiness to implement this. The involvement of the private sector is very important in decision-making process.
My answer to your question reflects our report – Georgia has advanced in the Competitiveness Index. You can also find any indicators that advanced or drew back Georgia in the ranking in our annual report. The business environment in Georgia is even better than it was several years ago.
Source: http://www.ipress.ge/new/15867-msoflio-ekonomikuri-forumi-mezobel-qveynebtan-regulaciebis-harmonizaciaa-sachiro