News / FOUNDER OF SCHULZE GLOBAL: GEORGIAN BUSINESS ENVIRONMENT NEEDS MUCH BETTER PROMOTION
20 October 2015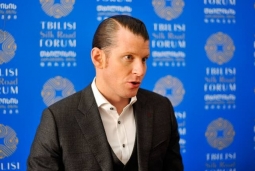 Schulze Global Investments, a US investment Company, is investing 100 million USD in Georgia. The Company mainly focuses on building about 10-20 MW hydro power plants in Georgia. Schulze Global plans to promote environmental practices related to construction and operation processes of hydro power plants in the country.

Schulze Global is a US investment company focused on the world's most dynamically developing markets. It invests hundreds of millions of dollars in various international markets in Asia, South America and Africa and cooperates with the world's most prestigious institutional investors.

Why did the Company choose Georgia and what is the level of Georgia's investment climate awareness in the United States? Ipress releases an interview with the Company's founder and CEO, Gabriel Schulze.

- Mr. Schulze, what is your impression about Georgia?

I have been to Georgia many times. First time I visited it about 5 years ago when we were studying the Georgian market. Personally I am always glad to come to Georgia; here we have an excellent team. Georgians are very hospitable people and I come here wherever I have a chance.

- Why did Schulze Global Investments choose Georgia?

We are continuously studying different markets. We are oriented on the countries and markets that are relatively new and developing.
Traditionally, the new markets include more opportunities for development. They have special structural reforms. Georgia is one of the frontier markets. First of all, we identified the opportunities Georgia offers to foreign investors. When we research market we study the arbitration perception - this is the difference between the opportunities and reality on the market.

The main thing in Georgia is that if you ask Americans about Georgia, they will recall Russia and the war. To be honest, many people do not know where Georgia is located. The reality in Georgia is the following - a stable business environment, a steady governance and a sustainable political situation. That is the very reality we liked in Georgia. Our Company constantly looks for new opportunities and our goal is to enter an interesting market before someone else gets there.

We want other investors to follow us and enter Georgian market. We want to be the first and then help others. When we were analyzing the Georgian market, we realized that all the things that Western investors were saying about Georgia was far too much exaggerated; the real situation is much more attractive here.

When we realized that we liked the Georgian market, the next question was if what we wanted to do on this market. We said that the best choice today would be a hydro power plant construction; we would like to do more in this regard and we will achieve more in 2 years. First of all, we decide which market is attractive and which would be better to invest in all the countries we enter. We invested in hydro power plant construction in Georgia, but this does not mean that we would be interested in hydro power plants in other countries as well. Each country has its opportunity.

- Do you have other plans in the Georgian energy market, except the HPPs?

I believe that a person can do one thing very well or many things at an average level. So far, we want to do this one thing very well - this is medium and small-size HPPs. We observe other opportunities and consider them. At this stage we should focus on this project.

- What do you expect from this project?

It was not easy to implement this project, - now, it is time for challenges. We want to invest more in Georgia; therefore, we would like to increase the number of projects up to 10.
One thing I know about our business – you need to be sure that your foundation is strong. I always encourage my team to be patient – do not be in a hurry, we have to make sure that all the details are in order, we should be confident that we have properly chosen the market and the team and office are ready to work. 90 per cent of the business depends on the foundation - we have finished working on the foundation in Georgia at this stage.

- Within the Silk Road Forum, it has been said many times that Georgia needs more foreign investments – what are the US Companies interested in, in this regard?

The awareness of Georgia is growing in the US. According to my observations, the number of people who are fully informed about Georgia is not high. Most of them do not know about Georgia or have little information. Those who know evaluate the risk factors – most believe that entry into Georgia is quite risky.
Now everything depends on the Georgian Government, the US government and investors to change this attitude. We also have to make demonstration about us with our friends. More demonstration is needed in the press too. We discovered that Georgia has a pretty good business environment.
When they see that one US Company makes business in Georgia, others will follow this example. It is necessary to have one who would develop this. I think over time, more and more American investors will come to Georgia. Georgia has only this problem and I think it is my as well as everyone's responsibility to help the country, tell foreign businesspersons that there are many opportunities to invest here.
Georgia's Western orientation is attractive for investors. In this regard, American and Georgian businessmen have a common goal. In the long-run, the existence of more American Companies in Georgia will bring profit for both countries.