News / HERNANDO DE SOTO: YOU ARE A VERY SMALL COUNTRY, SO YOU NEED TO HAVE YOUR OWN STRATEGY
17 October 2015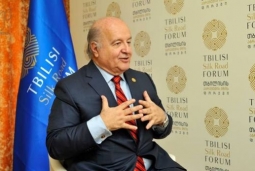 This week Tbilisi hosted the first Tbilisi Silk Road Forum and along the Georgian participants, delegation of more than 30 countries of Europe, Asia and North America, as well as 20 international, financial and donor organizations participated in the international conference.

Tbilisi Silk Road Forum was established upon the Prime Minister Irakli Garibashvili initiative, who responded to the initiative of the President of China, Xi Jinping – New Silk Road - Economic Belt project. According to the Prime Minister of Georgia, the purpose of the Tbilisi Silk Road Forum is not only to emphasize the importance of Georgia as a link between Europe and Asia, but also to bring benefits to everyone from Beijing to Brussels.

The Chinese Government allocated 40 billion USD to implement the global project. The Memorandum of Cooperation was signed between China and Georgia to develop a new Silk Road Economic Zone. "As a result of the Forum, Georgia will recieve many projects. A project of more than 100 million investment value will be signed in Tkibuli. Also, we talked about transit potential and the opportunities the transit may bring. It will be Anaklia Deep Sea Port, which will consume several billion investments. A plot of land of 600 hectares adjacent to the Anaklia Port will serve for establishment of the free industrial zone, which will also create additional jobs," – noted the Minister of Economy and Sustainable Development of Georgia, Dimitri Kumsishvili.

The project will allow the freight traffic between the European Union and China to go through the territory of Georgia. Land and marine transport infrastructure of Georgia will be able to serve cargo from China to Europe. With the involvement of the New Silk Road - Economic Gate project, Georgia will serve as a regional transport, infrastructural and industrial hub, and will become an important link in the Europe-Asia transport network.

One of the speakers of the Silk Road Forum was the famous economist, the president of Institute for Liberty and Democracy, Hernando de Soto, who gave an exclusive interview to the bpn.ge following the panel.

- What should Georgia expect from the Silk Road Forum, how important is it for our country?

Holding the Forum was a great idea itself. This is a very successful event for Georgia, because the Forum has brought 31 countries together. The idea of the Silk Road is very special and unique. Yesterday, I met people from four South American countries who were interested in attending Silk Road Forum and all of them knew about Tbilisi. For me it was a bit surprising. The Silk Road gives participant countries the opportunity to create history. Therefore, this is a kind of new brand. Its main idea is the cooperation between the countries, partnership between the different nations, which is beneficial for each state. Even the fact that Georgia took the initiative and brought together so many countries is just amazing. Moreover, it was a wonderful chance for those who did not know until now, to see how much progress Georgia has achieved. I want also emphasize how special Georgian people are. You are very special people - even in the streets, people meet us with a smile.

- You mentioned Georgia's progress. What kind of progress it is?

First of all, it is the administration. I visited the Justice Hall, where important documents are issued, whether it is an ID card, a marriage certificate or other documents and everything was very well organized. You also have the leading positions in Doing Business ranking, which shows the success of your country.

- How attractive do you find Georgia's business environment for investors?

Unfortunately, I do not have much information about it. However, after my two-day visit to Georgia, I can say that investors are very sympathetic towards Georgia and investing here.

- You had meetings with the Prime Minister of Georgia and the Minister of Economy of Georgia. What are the main messages that attracted your attention?

I want to say that the members of the Georgian Government made a very positive impression on me. They are full of energy and focused on moving forward. They are good at team working and follow the same path. It is only a two-day impression, though, as I said, it is very positive. I have met the Government members of different countries and I can easily say that Georgian Government works as a team.

- Prime Minister of Georgia, Irakli Garibashvili stated that Georgia will take active part in the initiative of the President of China 'New Silk Road - Economic Belt'. What do you think about Georgia's involvement in this project?

Initiating of the Silk Road projects was a brilliant decision. This will bring you closer to your neighbors, and your neighbors represent a big market. In addition, Georgia will deepen its relations with China. At the same time, it will bring additional investments to Georgia. The Silk Road is an amazing opportunity in terms of expanding the trade opportunities.

- You mentioned that Georgia is on the right track. What do you mean by 'on the right track'?

Unfortunately, many people do not understand the fact that globalization is the only right way to advance. The right track for Georgia is that you are ready to integrate into the global economy. Concerning Georgia, I can say that it is not just seeking Westernization, but readiness to cooperate with other countries. I saw that the Government of Georgia has a true desire and intension to become a part of the global world because there is no other solution. And we should bear in mind that you are a very small country, so you need to have your own strategy. We can bring examples of Switzerland and Singapore. We know that both of these countries are quite small, but thanks to their strategy they are very strong. That is why you need a strategy to live along with great countries.

- What is the strategy that Georgia should develop?

Like Singapore, Switzerland, Macau, you have to inspire yourself and your abilities. It is necessary to do something that will only be yours. Whatever model you take from other countries, you should remember that it was successful just for that particular country and not for you. It is necessary that you develop yourself within the country and find your individual strategy, a model that your people can use. Now the main question is how well the Georgian people will understand this model. Therefore, the Government of your country has two aspects to take into account – they have to involve other countries into it but, at the same time, they should attract their people who have to receive the benefits of this model.

- You talked before about the global economy that is on the verge of the crisis. What do you think the world economy is on the edge of another economic crisis, and if so, what is to be done to prevent it?

The global economic crisis is a kind of cycle that periodically repeats. I cannot say that now there is a good time for the global economy, but there are no other players. I mean that North Korea, Cuba, Zimbabwe cannot be main players of the global economy. The best solution at this stage is the international cooperation between the markets.
Source: http://www.bpn.ge/analizi/16252-hernando-de-soto-dzalian-patara-qveyana-kharth-amitom-satciroa-da-unda-gqondeth-moqmedebis-sakuthari-strategia.html?lang=ka-GE