NEWS / Karl Erjavec: South Caucasus is the strategically important region
08 December 2017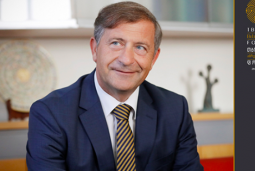 Slovenian delegation is participating in the Tbilisi Belt & Road Forum. The Deputy Prime Minister and Minister of Foreign Affairs of Slovenia, Karl Erjavec talked about Georgia's role in the Belt & Road implementation.
As Karl Erjavec said, Slovenia plans to closely cooperate with Georgia: "Slovenia and Georgia have many things in common. We have develop excellent relations with Georgia and I believe that our economic cooperation will go even deeper. We will have a meeting with our Georgian counterpart and other high-rank officials as well as the representatives of the private sector in order to further enhance our economic cooperation."
Slovenian Minister of Foreign Affairs stated that the holding the Belt & Road Forum in Tbilisi confirms Georgia's strategic position and, at the same time, plays significant role in connecting nations: "We discussed China's 'One Belt, One Road' initiative at the Forum, which united Asia, Europe and even Africa. This initiative will help countries to achieve national goals within the frames of the sustainable development. It is important that this project facilitated the economic development. South Caucasus is a strategic region since here is the junction of the eastern, western, northern and southern roads," - the Minister of Foreign Affairs of Slovenia, Karl Erjavec stated.