NEWS / Dimitry Kumsishvili Met with EC Director General of Transport and Mobility Henrik Hollolei
08 December 2017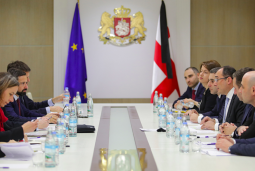 First Vice Prime Minister, the Minister of Economy and Sustainable Development of Georgia, Dimitry Kumsishvili met with Director General of Transport and Mobility of European Commission Henrik Hollolei, who, within the Tbilisi Belt & Road Forum in Georgia, will participate in the Panel of Transport Infrastructure with the First Vice Prime Minister of Georgia.
The meeting focused on Georgia and EU cooperation in terms of the development of the transport and infrastructure sectors. Positive processes that are being implemented in Georgia after signing the Association Agreement with the EU were one of the major focuses of the meeting.
The sides talked about the transport corridors, which are part of Georgia such as the Traceka (Europe - Caucasus - Asia transport corridor), Intermediate Corridor, Lapis Lazuli, Persian Gulf - Black Sea, etc.
In addition, the focus was on regional infrastructure projects such as the Baku-Tbilisi-Kars Railway, Anaklia Deepwater Port, Railway Modernization Project, East-West Express Highway and others.
As it was mentioned at the meeting, with the technical support of the World Bank, the Georgian National Logistics Strategy and the Action Plan were elaborated, which will further help Georgia to become a regional transit and logistical hub.
The sides noted that effective and sustainable transport infrastructure is of vital importance for the regional development taking into consideration the fact that the Government of Georgia is currently implementing a new investment project aimed at establishing modern logistics centers in the country. Such centers will significantly improve the quality of logistics services and create 800 additional jobs.
It was also noted that Georgia, which is one of the shortest transit routes between Europe and Asia, gradually combines the function of regional trading and logistics center with more than 60% of transit cargoes. In this sense, important infrastructure projects aimed at facilitating regional trade relations have strengthened Georgia's transport potential.
The regional structure, which is a basis of rail, road, sea and air routes, aims to create functional, efficient and high quality transport corridors with regard to coordinated activities between countries that can increase the volume of trucks and create new business opportunities.
Within the framework of the meeting, the Director General marked the importance of Georgia's integration into Trans-European transport network.
Tbilisi Belt & Road Forum is an important opportunity to deepen economic, political and cultural ties between Asia and Europe. The forum aims at establishing and developing a discussion platform where Silk Road Initiative Countries, International Organizations and Private Sectors will discuss prospects and connections in the field of international and regional trade.
About 2000 delegates from over 60 countries including 1100 private sectors and over 500 representatives from foreign companies will participate in the Tbilisi Belt & Road Forum, which will be held on November 28-29. The forum is organized under the patronage of the Prime Minister as well as the Ministry of Economy and Sustainable Development, and Ministry of Foreign Affairs of Georgia.