21 July 2016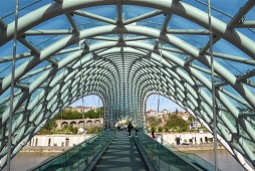 A compelling blend of European and Asian influences, the Georgian capital is a compact and surprising destination easily explored in a few days. Laneways meandering from the riverside Old Town lead to a spectacular hilltop fortress, and ground-breaking modern design counters stately avenues and heritage architecture. Meanwhile, culinary influences and flavours from the surrounding region filter through the city's restaurants and markets. Here are ten experiences you shouldn't miss on a trip to Tbilisi.
Marvelling at horizon-stretching views
Reached on a funicular railway that trundles up a vertigo-inducing cliff face, Tbilisi's best views are from atop Mt Mtatsminda. From the funicular's terminus, well-tended gardens and walkways continue to Mtatsminda Park where amusement park action includes a ferris wheel, but equally entertaining is lunch on the huge deck at the summit's Chela bistro. From this high it's easy to take in the city's diverse architecture, a unique combination of stately Georgian churches and contemporary design.
Immersing yourself in modern architecture
Tbilisi's architectural collage of faded Art Nouveau apartments, 19th-century wooden buildings and Soviet-era tower blocks has been enlivened over recent years with audacious modern structures. Stroll slowly across the Mtkvari River on the Peace Bridge (opened in 2010) and be cocooned in an elegant web of steel and glass, before continuing to Rike Park to see the two stunning tube-like structures designed by Italian architect Massimiliano Fuksas. The twin metallic buildings are used as an exhibition centre and concert hall. Fuksas also created the nearby Tbilisi Public Service Hall, featuring an innovative roof of overlapping panels.
Meeting Mother Georgia
From the Mtkvari's northern bank, a gondola system swings lazily over the river and soars above the Old Town to the Narikala Fortress. The craggy remains of the castle are a combination of 4th-century Persian and 8th-century Arab fortifications, and a cliff-top path continues past purveyors of freshly-squeezed pomegranate juice to Kartlis Deda (Mother Georgia). Offering a cup of wine – but also armed with a threatening sword – the 20m-high statue is a classic metaphor for the Georgian character – welcoming of visitors but also ready to defend against invaders.
Wandering the Old Town's meandering streets
Winding lazily downhill from Freedom Square, Tbilisi's atmospheric Old Town is characterised by wooden structures with carved verandas and narrow shopfronts filled with cafes, wine bars and art galleries. Some tentative gentrification is taking place, but a subtle detour of just a few blocks reveals a more traditional scene: the aroma of freshly-baked bread wafts from underground neighbourhood bakeries, and vendors set up sidewalk markets under decades-old plane trees to sell spices, homemade wine and seasonal produce from Tbilisi's agricultural hinterland.
Uncovering a centuries-old wine tradition
With a wine-making culture stretching back 8000 years, Georgia is renowned as one of the original cradles of viticulture. Wine is still aged in beeswax-lined terracotta urns called qvevri, which are buried in the ground to promote fermentation under naturally stable conditions, and the practice of incorporating grape skins produces fragrant and flavoursome wines with a rusty hue. The brick-lined cellar of the Old Town's Vino Underground is the perfect place to begin exploring the unique characteristics of Georgian wine, and local culinary experts Taste Georgia (tastegeorgia.co) can arrange visits to family-owned vineyards in the nearby Kartli and Kakheti regions.
Tasting Silk Road–inspired cuisine
Strategically located on the ancient trading route linking Europe and Asia, the food of Georgia incorporates culinary influences from neighbouring countries. Traditionally eaten with beer, khinkhali are robust savoury dumplings similar to those served in Shanghai, while traditional breads and khachapuri (cheese pies) are often cooked in wood-fired ovens similar to an Indian tandoor. The influence of Iran informs fragrant chakapuli (meat stews) flavoured with dill, tarragon and sour plums. In Tbilisi's Old Town, the cosy Cafe Gabriadze serves traditional Georgian flavours with a modern spin.
Pausing for incense-infused reflection
First constructed in the 6th century and framed by a riverside garden in Tbilisi's Old Town, Anshiskhati Basilica is the city's most beautiful and atmospheric church. Shafts of afternoon light illuminate the centuries-old art treasures, icons and frescoes of the surprisingly compact interior, while slowly-burning incense creates a fragrant and heady ambience. If you're lucky you may chance upon worshippers performing the ethereal three-voice polyphonic chants of Georgian sacred music.
Hunting for treasure at the Dry Bridge Market
Poignant reminders of the Soviet era are scattered on the blankets and tarpaulins laid out daily at Tbilisi's Dry Bridge Market. Scores of enamel badges commemorating achievements big and small sit next to retro cameras., while faded album covers spelling out the Rolling Stones and Pink Floyd in boxy Cyrillic characters line up beside portraits of Josef Stalin, the Soviet dictator born just an hour away in the town of Gori. Weekends offer the biggest selection of fascinating flea market fare, but there is still plenty to see from Monday to Friday.
Taking a journey through Georgia's past
Head to the Museum of Georgia for two essential exhibitions illuminating both ancient and recent history. Downstairs the Archeological Treasury has a superb display of delicate gold jewellery – some 5th century BC pieces reinforce the myth of Jason and the Golden Fleece when the region was known as Colchis – while the top floor's Museum of the Soviet Occupation tells in compelling detail the story of the 70-year incursion (from 1921 to 1991) by Georgia's expansionist northern neighbour. Television footage of the 2008 war in Abkhazia between Georgia and Russia – a region still claimed by Georgia – reinforces the contemporary relevance of the exhibition.
Revitalising at the sulphur baths
Tbilisi can be a hilly destination – especially around the narrow streets and back alleys of the Old Town – and the perfect coda to exploring the city is relaxing for a few hours in Tbilisi's famed Abanotubani sulphur baths. Within a complex topped by elegant brick domes, the experience ranges from shared, public baths to private options including sauna and massage sessions. Be sure to order tea to stay properly hydrated amid the steaming sulphur-infused pools.
Source: Lonelyplanet.com