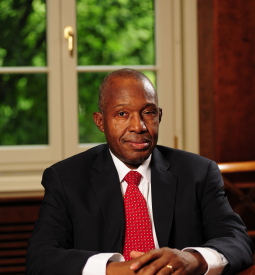 Yonov Frederick Agah
Deputy Director General, WTO
Yonov Frederick Agah was appointed as Nigeria's Ambassador to the WTO in 2005. In that capacity, he served as the Alternate Chief Negotiator for the Doha Round and Head of Nigeria's Trade Office to the WTO in the Permanent Mission of Nigeria to the United Nations Office in Geneva. The Trade Office is responsible for Nigeria's participation in Geneva-based trade-related international organizations, particularly the UN Conference on Trade and Development, the World Intellectual Property Organisation, the International Trade Centre and the WTO.
Mr Agah served as Chair of the WTO's General Council in 2011. He was responsible for organizing the Eighth WTO Ministerial Conference, which was acknowledged to be successful despite the prevailing stalemate in the Doha Round. He has also served as Chair of the following WTO bodies: Dispute Settlement Body in 2010, the Council for Trade in Services in 2009, the Trade Policy Review Body in 2008, the Council for Trade-Related Aspects of Intellectual Property Rights in 2007, and the Council for Trade in Goods in 2006. He was also the Chair of the Council for TRIPS, Special Session, in 2013.
Mr Agah has previously worked as a lecturer at Kaduna Polytechnic, Kaduna (1979-81), senior features writer/circulation manager, Benue Printing and Publishing Corporation (1982-84), Sales Manager, Benue Bottling Company Limited (1984-87), Field Manager, UTC Nigeria PLC (1990-91), Deputy Director (multilateral) (1991-2001) and Director (external trade) (2002-05).
Mr Agah holds a Bachelor of Science and Master of Science in Economics from Ahmadu Bello University, Zaria, Nigeria. He obtained a Master of Business Administration and Doctor of Philosophy in Economics (International Trade) from the University of Jos, Nigeria, in 1989 and 2007 respectively. His doctoral dissertation was on "Trade Policy Reform and Economic Growth in Nigeria Since 1986". Mr Agah also obtained a Bachelor of Laws from the University of Abuja, Nigeria, in 2009. He has contributed to various books and journals.