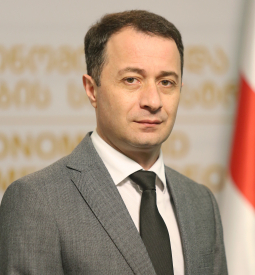 David Tvalabeishvili
Deputy Minister of Economy and Sustainable Development of Georgia
David Tvalabeishvili was appointed at the position of a Deputy Minister of Economy and Sustainable Development of Georgia in May, 2019. Before that he used to hold a position of a chairman of the Management Board at Georgian State Electrosystem (GSE).
In total David Tvalabeishvili has 23 year experience of working in Energy Sector that includes his position of Strategic Planning Manager at Georgian International Oil Corporation (1996-2005). Mr. Tvalabeishvili was involved in negotiations, as well as implementation of projects concerning the transit pipelines from the Caspian region via the territory of Georgia. Between 2006 and 2007 he worked as Carbon Finance Coordinator for the South Caucasus at the World Bank office in Tbilisi. In 2008 he was appointed as Energy Project Director at the Millennium Challenge Georgia Fund (MCG), where he managed Georgia's main gas pipeline rehabilitation project, as well as a study of possibility of constructing gas storage facility in Georgia. Between 2010 and 2012 as Energy Projects Manager at the United States Agency for International Development Georgia (USAID) he continued working on main gas pipeline rehabilitation projects within the frames of the US Assistance to Georgia. From November 2012 through September 2018, Mr. Tvalabeishvili worked as the General Director of Georgian Oil and Gas Corporation.
In 1999 David Tvalabeishvili received the Medal of Honor for his contribution into development of the Baku-Supsa Oil Pipeline.