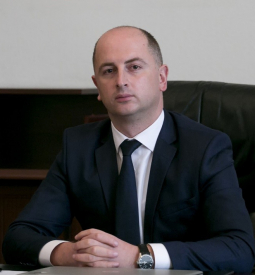 David Peradze
General Director, JSC Georgian Railway (GR)
David Peradze is a CEO of state owned enterprise JSC Georgian Railway, the only railway operator in Georgia. Georgia is vertically integrated company with infrastructure and rolling stock. GR has more than 12 thousand employees and is one of the biggest company in Georgia founded in 1972.
He worked for the top companies in Georgia. He served as a director of Co-investment fund's project Mtkvari Hesi that is a hydro power plant construction project. In Georgian Industrial Group, he was leading the Project Management Department with following directions: thermal power plants, renewable energy such as wind farms and hydro power plants. In Georgian International Energy Corporation, he was in charge of future strategic project management. In Cartu Group David was overseeing design and construction projects.
David Peradze has master's degree in Finance and Civil Engineering from Kharkov State Technical University of Civil Engineering and Architecture. He also has bachelor's degree in Finance and Banking as well as Mechanics and Mathematics from Ivane Javakhishvili Tbilisi State University. Graduated school of Mathematics, holds ACCA certification.
David has interests in fields of energy, investment, real estate, construction and logistics. He enjoys mountain biking and hiking, landscape architecture and IT.