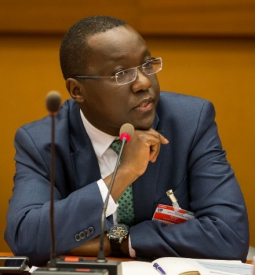 Bernard Aritua
Senior Infrastructure Specialist, The World Bank
Dr. Bernard Aritua is Senior Infrastructure Specialist at the World Bank Group. Based in Beijing China, he is Cluster Leader responsible for coordinating World Bank Transport Infrastructure and Freight Logistics technical assistance and investments in China, Central Asia and Mongolia.
He has worked in the field of infrastructure investment and economic policy for more than 20 years. During this time, he has led and provided technical input on policy analysis, regulation, institutional reform, and technical design of major highways; railways; inland waterways; freight logistics; and multi-modal transport.
He is lead author of the recent report - The Rail Freight Challenge for Emerging Economies: How to Regain Modal Share. He has published over 50 reports, articles in peer-reviewed international journals and contributed to several international conferences.
Prior to joining the World Bank, he worked in both the private and public sector in United Kingdom, Germany, Eastern Europe, Africa, Middle East, and more recently in India and China.
Bernard is a Chartered Engineer with a PhD in Civil Engineering from the University of Leeds, United Kingdom. and is a Member of the Chartered Institution of Highways & Transportation, and the Institute of Asset Management.