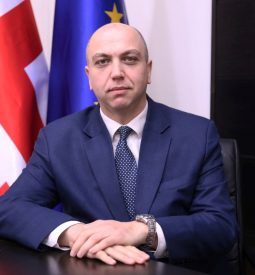 Irakli Karseladze
First Deputy Minister of Regional Development and Infrastructures of Georgia, Chairman of Roads Department of Georgia
Irakli Karseladze - First Deputy Minister of Regional Development and Infrastructure of Georgia and Chairman of Roads Department, from April 2018.
Since 2014, he had been working for Georgian Tourism Development Fund and affiliated companies as the CEO and Chairman of Advisory Board of Georgian Co-Investment Fund. Since 2012, he served as the Head of Administrative Department of Chancellery of the Government of Georgia.
Prior to moving to public service, at different times, Mr. Karseladze held leading positions in the private sector. Namely: Director of Logistics Department of Diplomat Georgia, Director of Procurement, Logistics and Administration of JSC Georgian Lottery Company, Director of Logistics and Procurement of JSC Lomisi-Natakhtari Brewery and Director of International Procurement Department of JSC Cartu Group. At an early stage of his career, he worked as the Expert of Air & Sea Ports Project of UNDP, under the South Caucasus Anti-Drug Program.
In 1999, Irakli Karseladze graduated from Ivane Javakhishvili Tbilisi State University, Faculty of Economy, and specialty of International Economic Relations.
He is fluent in English and Russian languages.