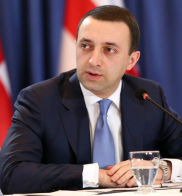 H.E. Irakli Garibashvili
Prime Minister of Georgia
Irakli Garibashvili is the Prime Minister of Georgia. In November 2013, at the age of 31, he became the world's youngest elected leader. Under Prime Minister Garibashvili's leadership, Georgia has transformed itself into a commercial hub connecting East and West. He is leading an assertive policy to promote economic growth and more fully integrate Georgia into the global economy.
In June 2014, Garibashvili signed Georgia's Association Agreement with the European Union, which he often refers to as a "master plan for Georgia's modernization."
Under Garibashvili's leadership, Georgia has strengthened democratic institutions and created a system of governance that is more open, more accountable, and upholds the rule of law. From establishing universal healthcare to investing in modern education and clean energy, the Georgian Dream-led government is undertaking comprehensive reforms to create a 21st century economy to benefit all citizens.
As Minister of Internal Affairs in former Prime Minister Bidzina Ivanishvili's government, Irakli Garibashvili enacted wide-ranging reforms that freed law enforcement from political pressure and increased transparency and accountability.
Garibashvili worked in the banking sector before entering politics in 2011 to co-found the Georgian Dream coalition, which went on to win the 2012 parliamentary elections. He held a variety of top management and supervisory positions in Cartu Bank and the Cartu International Charity Foundation. Garibashvili studied international relations at Tbilisi State University and the Sorbonne.
Prime Minister Garibashvili is married and has three children. He speaks Georgian, English, French, and Russian.