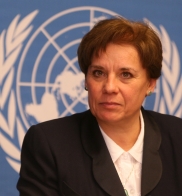 Eva Molnar
Director of the Sustainable Transport Division of the United Nations Economic Commission for Europe (UNECE)
Eva Molnar is the Director of the Sustainable Transport Division of the United Nations Economic Commission for Europe (UNECE)* in Geneva, a post she has held since 2007. Before that she spent 8 years as the Sector Manager for Transport in The World Bank, Europe and Central Asia Region and was for several years a guest lecturer at the Budapest University of Economics and Technical Sciences.
Prior to this she worked as an infrastructure and management consultant and for more than a decade she held several senior positions in the Hungarian Transport Ministry. During this time she was the CEO of Kapos Volan, a road transport company in Hungary, as well as a member of the supervisory boards of different transport enterprises, including the
Austro- Hungarian railways, Raberbahn.
*The UNECE Transport Division is the secretariat to the Inland Transport Committee (ITC) and to the ECOSOC Committee of Experts on Transport of Dangerous Goods (TDG) and the Globally Harmonized System of Classification and Labelling of Chemicals (GHS). The ITC is a unique inter-governmental body that also oversees the work of its 17 working parties, as well as looks after the development of 58 UN transport conventions.