NEWS / Sheikh Nahyan: "Georgia is Plentiful Place to Do Business"
08 December 2017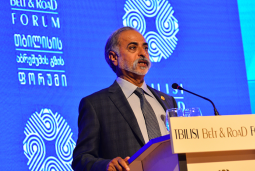 Member of the Cabinet of Ministers, the Minister of Tolerance of the United Arab Emirates, Sheikh Nahyan spoke about the positive sides of investments in Georgia at the Welcoming Panel of the Tbilisi Belt & Road Forum. "I know with my personal experience that Georgia is a plentiful place for doing business. As a foreign investor, I have a number of issues that many of you may face during your work. All these issues answer to the question why Georgia is a right place to invest," - Sheikh Naahyan stated.
Minister of Tolerance of the United Arab Emirates, Sheikh Nahyan singled out the specific factors that make investments in Georgia beneficial. "At first, Georgia experiences an annual increase of its GDP with 4% and this tendency continues. Secondly, as reported by the World Bank, Georgia takes 16th place among 90 countries in terms of simplicity of doing business, which means that this country a favorable place to do business. What follows is that Georgia has an open economy, which takes 30th place among 167 countries according to the Economic Freedom Index of 2016. Finally, according to Corruption Parameters of Transparency International, Georgia is a corrupt-free country, where investing is achieved without corruption," – the guest Minister commented.
Sheikh Nahyan identified investment and cross-border cooperation as further favorable parameters for starting business in Georgia. In particular, as the Minister noted, "Investment in Georgia is no way hindered by the tax terms. According to the reports, Georgia is one of the lowest tax burden among the world countries. On a brighter note, with a 16.4 tenth of tax rate, Georgia takes the ninth place among different countries in this regard. Another advantage is active cross-border cooperation, which brought us at the Forum. Various agreements with the EU, CIS, Turkey, and China are being currently accomplished. These agreements promote free trade regime between the countries."
Sheikh Nahyan also emphasized Georgia's important geostrategic location, which positively affects the development of tourism in the country: "Another reason for choosing Georgia to start business is its geostrategic location; it is located on the legendary Silk Road. The path from Central Asia and Caucasus to Europe is through Georgia, which is the link between Europe and Asia to transport goods and products. The eighth reason for choosing Georgia is its desirable location for tourists, its mesmerizing mountains, nature, sea coast and of course delicious dishes, which most probably all of us have tasted."
Minister of Tolerance of the United Arab Emirates pointed out human resources as one of the priorities of Georgia - "Georgian leaders' dynamic and farsighted vision is harmonized with the strong will of the Georgian people to ensure sustainable development, prosperity, education and welfare."
According to Sheikh Nahyan, all these factors made Georgia his favourite. In the end of his speech, the Minister expressed his gratitude towards the organizers of the Forum and noted that it enables different investors from different countries to establish new contacts and discuss joint projects together. "I congratulate the Forum organizers on selecting different sectors in order to focus on various industries. I would like to highlight the Prime Minister's contribution and the time that he has dedicated to this event. The Forum participants will definitely study and listen to many interesting projects today,"- Sheikh Nahyan commented.