NEWS / EBRD Vice President: Georgia is the leader of the second wave reforms in Eastern and Central Europe and this is an obvious progress
08 December 2017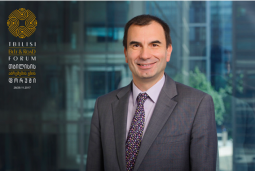 Alain Pilloux, the EBRD Vice President, in his speech delivered at the Tbilisi Belt & Road Forum gave the positive evaluation of the Georgia's activity in terms of international projects as well as with regard of the implemented reforms stipulated by the 4-point plan of the Georgian Government.
"Georgia is a second-wave reforms leader in Eastern and Central Europe and this is an obvious progress. Georgia's openness and readiness, its progressive approach to trade, active cooperation with China as well as with the EU within the framework of the Deep and Comprehensive Free Trade Area Agreement, is more than welcoming," – the EBRD Vice President noted. Alain Pilloux highlighted the active involvement of the Georgian Prime Minister in the projects implemented within the framework of the support by the EBRD and other leading international and regional organizations.
According to the EBRD Vice President, the organization supports the context of the Belt & Road Project and fully shares its visions and tasks. The fact that the EBRD is a sponsor of the Forum is another confirmation of the EBRD support.
Alain Pilloux also emphasized the role the organization can play within the Belt and Road initiative framework. "First and foremost, we would like to engage in the political reforms with all of the partners more deeply. I would also like to stress the necessity of the private sector mobilization. Only Governments cannot cover all the issues, the private sector should invest its finances, employees and efforts as well," – Pilloux noted.
The Vice President of the EBRD also talked about projects of regional importance and the organization's contribution. As the Pilloux noted, the EBRD, in coordination with the World Bank, the ADB and other financial institutions, makes 500-million USD contribution to the development of the southern gas corridor connecting Azerbaijan, Turkey and Western Europe via Georgia. "The Kars-Akhalkalaki-Ganja line will connect important locations. It will be one of the models of transport development in this region," – Alain Pilloux comented. The EBRD Vice President welcomed the implementation of the Anaklia Deep Sea Port and construction process of the Hydro Electric Plants in Georgia.