NEWS / Dimitry Kumsishvili – Belt & Road Forum benefits Georgia's transit potential and investment increase"
08 December 2017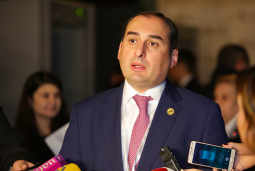 First Vice Prime Minister, the Minister of Economy and Sustainable Development of Georgia, Dimitry Kumsishvili highlighted the importance of the Tbilisi Belt & Road Forum. According to Dimitry Kumsishvili, this is the most important forum, which benefits Georgia's transit potential and contributes to the investment increase in infrastructure as well as investments implemented by the private sector in ports or other infrastructures. As the First Vice Prime Minister noted, the return of all this should be followed, "which means that new jobs will be created and the inclusive development of the country will be enacted."
As clarified by Dimitry Kumsishvili, the Silk Road will not replace the Kars-Akhalkalaki Railway: "Kars-Akhalkalaki Railway is one of the branches of the Silk Road, a landing route connecting three countries. This will be an opportunity that will increase the possibility of our transport corridor, at the first stage, with 5 and then, with 15 million GEL."
Dimitry Kumsishvili also reviewed the results of the first Silk Road Forum 2015 and noted that a lot has happened in two years. "In March 2015, an agreement was signed between Georgia and the People's Republic of China on Silk Road Development, as a result of which, in November 2015 we hosted the first Silk Road Forum in Tbilisi. After that, we were able to sign a trade agreement with China, which led to the increase of the cargo turnover we had further interest in - including the railway cargo that Georgia is provided from Asian countries, including China, which we all are very proud of. Thereafter, it all confirms that the shortest way to pass is through Georgia, and we no longer need from 9 to 12 days to take cargo from China to Europe through our corridor, but it is already a part of today's reality."
In addition, according to Dimitry Kumsishvili, the views expressed in 2015 are already a reality, including a unified trade agreement with China, which is one of the most important driving forces for Georgia.
As Dimitry Kumsishvili noted, highly important agreements will be signed today, including the Agreement of Free Industrial Zones, Technological Parks and Innovations, which is one of the important agreements with China. "The agreement considers relocation of the industrial capacities to Georgia as to create joint capabilities and use Georgia's strategic location as a pathway between Europe and Asia. Besides, these free trade agreements will promote the creation of new jobs, too," - the First Vice Prime Minister reported.
Today marks the day of opening the Silk Road Forum in Tbilisi, which is attended by 34 official delegations and up to 2000 delegates from more than 60 countries. Prime Ministers of Ukraine and Moldova, Vice Prime Ministers of several countries, other high-ranking officials, diplomatic corps and international organizations, as well as international experts and journalists are hosted in Tbilisi.