23 July 2017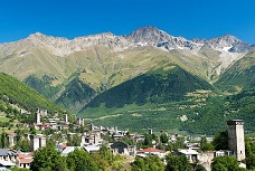 In June, Wizz Air added Georgia routes to its timetable from Luton – flying not to the capital Tbilisi, but to Kutaisi, in the west, a place I'd never heard of. A gateway for exploring the Svaneti region, home to the mighty Caucasus mountains, it offers a genuinely off-the-beaten-track adventure for Brits (compounded by a 3am arrival time). Accommodation, I had been told, is quite basic, but if the weather is kind, the scenery is superb, utterly unspoilt and great for trekking – and with a fares from £24 one-way for the five-hour flight, a bargain too.
That late arrival meant a slow start next morning. Over breakfast, my guide, Nika, had bad news. "It's raining in the mountains." No matter: I bought myself a big plastic mac, and we set off on our long drive into the hills.
Georgia achieved independence from the Soviet Union in 1991 but there are still reminders of the USSR everywhere. Between pretty traditional villas with carved wooden verandas and fields of bright vegetables sat squat Soviet housing blocks, angular concrete bus shelters, enormous statues and weed-strewn derelict factories.
As the road wound upwards, snowy peaks came into view, surrounded by cloud. Below us a muddy river raged. We emerged from tunnels into blinding sunlight. Our destination was Becho, a gaggle of houses along a thick track, surrounded by green meadows and snowy peaks.
The Svans are hardy, self-sufficient farmers, but tourism has started to provided a useful income. At our simple guesthouse extra rooms were being built. Before dinner, I chatted to the owner, Jana, who invited me into the kitchen to see kubdari being made. This is a Svan staple of bread stuffed with beef, onions and Jana's secret spice mix.
She showed me how to take a ball of dough, shape a hollow, add spoonfuls of the meat mixture and close it up. Then she flattened it into a thick roundel and popped it in the oven. It looked easy enough, but my attempt failed dismally, meat spilling out of my dough.
The dinner table groaned with food: cabbage soup, chicken in spicy sauce, bean salad, fish stew, roasted aubergine and khachapuri – Georgian cheese bread. It was all accompanied by rather rough homemade wine. A glass of local chacha brandy was, however, an excellent nightcap.
Nika's forecast was accurate – we awoke to persistent rain. Time for heaps more food. Breakfast was bread, salty cheese, cake and a concoction of sticky rice and syrup: ideal hiking fuel. We set off and after 30 minutes' walk we picked up a trail leading to high-altitude waterfalls with what would have been splendid views – if the cloud had decided to lift.
Fording a gushing stream, we strode on for a couple of hours, first between bushes of bright yellow azalea and then upwards through pine forest. It was muddy, but the chilly air and rushing of the river were invigorating.
Crossing a battered bridge of trunks over a torrent of water brought us to a couple of cabins hidden among the trees. A Georgian flag hung from a branch. We'd stumbled on a military outpost: three soldiers keeping tabs on the Russian border, just across the 4,000-metre peaks. Sheltering in one cabin was a group of German walkers. The soldiers produced mugs of sweet tea. We hung our sopping macs to dry.
Miraculously, the sun came out, so we climbed fast and burst on to a high plateau strewn with flowers. Above, four waterfalls cascaded down a curved cliff face. The cloud lifted more, unveiling a perfect view: a valley of bright green meadows dotted with farmhouses, with snowy peaks wreathed in cloud behind.
We'd learned our lesson. Next day we set off later, having driven on to Mestia, about half an hour up the valley. More developed than Becho, it was full of guesthouses, though there were few other tourists. There was plenty to do while the rain cleared. A museum provided a fascinating introduction to Svan culture, with displays of ancient weapons, furniture, clothing and richly painted icons.
As the rain cleared, we drove on to a village called Mulakhi, from where we could walk back to Mestia over several hours. All the villages around here are dotted with stone watchtowers built during the middle ages to defend against invaders. Twenty metres high, with openings at the top for firing on enemies, they looked like clusters of giants.
We reached a high-level lake and walked on to a sound track of croaking frogs. Slithering down a path through overhanging trees we arrived at a meadow with the most colourful carpet of wild flowers I've seen. Hosts of yellow buttercups, blue cowslips their heads in the breeze.
The hardest decision was choosing the perfect viewpoint for lunch. We sat in bright sunlight surrounded by a kaleidoscopic carpet of flowers. To the right was the grey-white mass of the Ushba glacier, below the sparkling green valley with the ancient watchtowers of Mestia marching across it. It had been a long, sometimes soggy journey. But absolutely worth it.
Source: theguardian.com