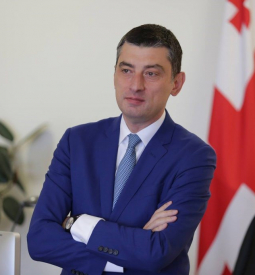 Giorgi Gakharia
Prime Minister of Georgia
On September 8, 2019, the Parliament of Georgia approved Giorgi Gakharia's nomination for the Office of Prime Minister.
Prior to his current position as a Prime Minister of Georgia, he served as a Vice Prime Minister of Georgia, Minister of Internal Affairs of Georgia (2017-2019), additional to this he also ran as secretary of the National Security Council.
In the period of 2016-2017 Mr. Giorgi Gakharia served as a Minister of Economy and Sustainable Development. During 2014-2016 he worked as an adviser to the Prime Minister of Georgia and as a Secretary of Economic Council. Additionally he was appointed as a Business Ombudsman of Georgia since 2013.
Earlier in his career Mr. Giorgi Gakharia held various senior positions in private organizations. During 2013-2016 he worked as a Business Development Director for Eastern Europe, CIS and the Russian Federation at Lufthansa Service Holding AG. LSG in Frankfurt, Germany. Moreover Mr. Giorgi Gakharia worked as a visiting lecturer of applied biotechnology at Moscow State University (MSU).