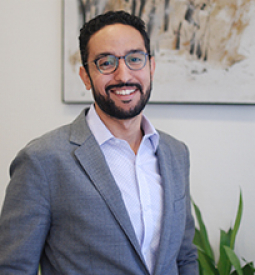 Abdulaziz Faghi
Program Leader for Infrastructure, Europe and Central Asia Region, The World Bank
Abdulaziz Faghi is a Program Leader for the Sustainable Development and Infrastructure Practice Groups in the South Caucasus based in Tbilisi, Georgia. He has 15 years of experience leading and developing infrastructure programs. He also brings to this position the in-depth experience from the Energy Global Practice where he worked as a Senior Energy Specialist in Europe and Central Asia, and prior in South Asia.
Abdulaziz has developed strong technical and leadership skills in operational work and strategic investments in cross-border trade. He has helped shape the organization's agenda by collaborating across the World Bank Group, as well as with development partners through joint financing and policy dialogue efforts.
In addition, Abdulaziz brings the experience from the private sector, where he worked on a range of infrastructure projects, urban development and the creation of special economic zones in the Middle East region.
In his current role, Abdulaziz works closely with the South Caucasus Country Teams to design, implement and oversee country and regional programs that help achieve the strategic goals in Armenia, Azerbaijan and Georgia. He works across Global Practices including Agriculture, Water, Urban Development, Social and Environment, Transport, Digital Development, Energy and Extractives to develop multi-sectoral solutions to the complex development challenges faced by these countries. He also manages the dialogue with various clients and stakeholders to address problems and devise solutions to in dealing key development challenges in the region.