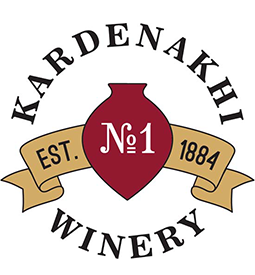 Kardenakhi Winery
Kardenakhi Winery N1 (registered "Kardanakhi wine factory N1" LTD)was founded in year 1884 . It is a unique cellar due to its unprecedent amount of KVEVRI (Qvevri) big size clay pots placed underneath the earth for wine aging. The whole process of aging is done naturally, starting from selection of grape sorts, placing them in Qvevri, and then adding chacha (special Georgian ,grape pomace, sometimes called grape vodka) The term chacha is used in Georgia to refer to grape distillate. It may be also produced from unripe or wild grapes.
In our winery ,handpicked grapes are placed in qvevri for about 1,5 -3 years for its natural fermentation and aging, which gives wine more natural maturity and is better to consume. Due to the tanins and all natural ingredients and processes it goes through itself. Note, our concept and mission is to concentrate on small amount of sorts, to produce high quality and place the brand on exclusive middle and high segment of the market. The amount of Qvevries we hold gives us all possibilities to process and age wine for a long time and produce wine with best quality, at the end our customer will enjoy the real taste of a good Georgian wine.
The winery itself from the day of establishment counts a century, it has expanded over time, and has produced wine ,through the time, it was closed down for about20 years until, recent owners of the company have purchased grapes and started aging wine in year 2014. The company has participated in some wine and spirit Fairs:in Europe(Belgium) ,China, Poland and local Georgia(International Qvevri Wine Contest 2018-Saperavi- Silver Medal, International Wine Fair Tbilisi Georgia 2018- Tsarapi – Bronze Medal).Our wine always gained and interest due to its natural consistency and incredible taste of earthy warm , soft and strong notes of different wild berry ,citrus Aromas.
Regarding marketing and positioning the brand. There was a little research made by a marketing manager at the company, and found some real facts which could be linked to this place as a historical source. According to the available memoires and pictures taken at that time, the cellar was built by a Local Prince Kote Abkhazi in 1884, who was born in Kardenakhi Village, Besides of various interesting facts, there is a whole section of written pages dedicated to Kardenakhi winery by French archeologist and traveler Joseph Baron DeBaye of his voyage to Georgia in 1896-97. Baron DeBaye was a known friend of Count Sheremetiev and guested him in Kardenakhi. The book presents description of definite facts and photos of Cellar, taken by Joseph Baron De Baye as also Dimitry Ermakov Georgian photographer, the pictures and even the book exists today at museums and libraries( EN GEORGIE Le Baron de BAYE 1898 (French Version Paris, Librairie Nilsson, France) as also there is a book translated in Georgian which is available at the local Bookstores(publisher Artanuji). All traditions, the wine making process is well described in his book. The little story that shows the significance of the history and traditions kept until today at "Kardenakhi Winery N1".