News / HILTON TO BE BUILD A HOTEL IN TBILISI CENTER - INTERVIEW WITH HILTON REPRESENTATIVE
21 October 2015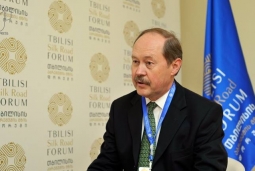 Hilton Regional Representative Recommends Georgia to Increase Number of Low-cost Flights, Establish Ties with Iran and Focus on One Region
What are the Hilton's plans in Georgia? What are the disadvantages of holding the international forums in the building of Parliament? Why is Batumi difficult to be reached? – The IPR presents an interview on the issues with the Hilton regional representative, Vladimir Lichev.

- Why did Hilton choose Batumi?

Hilton is one of the leading and hospitable brands in the world. The world market is constantly changing, and Hilton constantly considers the new market opportunities, where we can introduce our brand. According to the existing demands, we can offer different brands to any market that will fit different types of clients.
Now it is a good time to introduce Hilton Hotels in Georgia. Our entry was related to the existing market demands. Our hotel is designed for both foreign and domestic tourists.

- Which segment is the most demanded in Georgia?

That is a good question, but not easy to answer. It depends on which location we consider. There are different demands on different segments. All types of hotels are in demand in Tbilisi, but the competition varies through segments. You have many hotels working on the top segment, but the offer is limited for middle-class customers.
There is actually no offer of international brands economy class. That is why there is a niche to build economy class international brand hotels. Therefore, we are building Hilton Garden in Chachavadze Street which will be focused on a middle class.
At the same time, we are considering an opportunity of opening high-class hotels, especially, ones with conference facilities. Forums like the Silk Road Forum should be held in an appropriate hotel. The Parliament building is beautiful, but it is not suitable to the forums. It is subordinate to the government. Commercial conferences should be held not in the Parliament, but in the hotel.

- Within the framework of the Silk Road Forum, you mentioned that apart from mid-market hotels, it is also important to have low-cost flights. What is the situation in Georgia today?

The introduction of low-cost airlines is very important in terms of tourism development. Low-cost airlines are widely-spread in Europe, which allow customers to book airline tickets at the last minute, for example, for holidays. I think if the number of low-cost airlines operating in Georgia increases, the number of tourists will increase consequently.
For example, it is not easy to get to Batumi by air, as the number of flights is limited. When people consider a visit to a certain place and there is no direct flight to that destination, they may refuse and choose the direction where it is much easier and cheaper to get.

- The factor of seasonality is high at Georgia's resorts, can that be named as a factor discouraging the investors to invest there?

The concept of Batumi sounds quite good since the Government reconstructed the old town, roads, bicycle paths and the port. Batumi is also a gambling zone and it attracts clients not only in summer, but in winter as well. Economic sanctions on Iran are about to be lifted and Georgia will be one of the most attractive destinations for Iranians. It is quite interesting to establish relations with Iran in this regard.
The mix of resort, business center and gambling zone makes it an attractive place for business throughout the year. Seasonal factor is certainly high, but the business center and the gambling zone neutralize it.
The situation with the mountainous region is much difficult. Seasonal factor in mountain resorts is much higher and the holiday season is short. Special infrastructure should be developed for the summer season. My recommendation is to concentrate on one region.
In order to develop infrastructure, open new hotels, restaurants, ski lodges and markets, there should be attracted as many investors as possible. This is how you should make one direction attractive since it is hard to implement on several destinations. You should try to make mountain resorts attractive both for summer and winter seasons. I would recommend following the examples of Austria and Switzerland. They have a 100-year experience of the mountain resorts development.

- What are Hilton's future plans in Georgia?

We are considering various opportunities. The first hotel has already been opened – the Hilton Batumi. The Hilton Garden Inn Hotel is currently being constructed and we are considering the opening of the Hilton Conference in Tbilisi – this is the demand we see on the market. It will be a place for conferences and not only for Georgian but the international conferences as well. We consider the possibility of opening a mid-market hotel in Tbilisi.
After the implementation of our plans in Tbilisi and Batumi, we will continue our activities in the other cities as well. As far as I know, there is a free economic zone in Poti. We have plans for Kutaisi as well.
As for the mountain resorts, we should carefully plan how to develop them because of the seasonality factor.

- Have you selected a place to build a new hotel in Tbilisi?

At this stage, we are looking for a local or international investor to cooperate with. It should be a city center, comfortable and acceptable place, 10 minutes away from the city center.
Source: http://www.ipress.ge/new/15621-hiltons-tbilisis-centrshi-sastumros-asheneba-surs-interviu-hiltonis-tsarmomadgeneltan