NEWS / Zurab Gelenidze: 300 MW capacity coal plant will be built in Gardabani
08 December 2017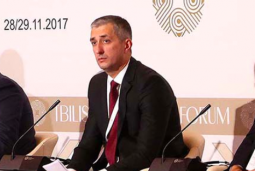 Director General of the Georgian Industrial Group, Zurab Gelenidze delivered the speech at the session of the Investment and Trade Opportunities of Georgia within frameworks of the Tbilisi Belt & Road Forum.
"During the last decade Georgia has become an interesting destination for foreign investors. Corruption has been eradicated in the economy. Free Trade Agreement with the EU and China provides a great opportunity for business partners to expand their businesses. It is about a large-scale project, which is a 300-megawatt coal-fired plant in Gardabani, which will be built in line with modern ecological standards. "
According to Zurab Gelenidze, Georgian Industrial Group actively cooperates with Italian companies of the Ravand and the Siams, which have over 100-year experience in the infrastructure sector.