NEWS / Dimitry Kumsishvili Highlighted Investment Potential of Energy Sector
08 December 2017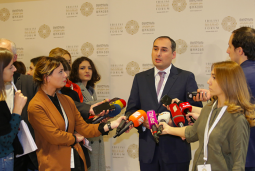 First Vice Prime Minister, the Minister of Economy and Sustainable Development of Georgia, Dimitry Kumsishvili introduced the investment potential of the energy sector in Georgia to the media representatives.
In response to the question whether the volume of investments in the energy sector is reduced, Dimitry Kumsishvili replied: "It is not so, though. In relation to energy, we simply dried up the period when a lot of constructions were completed simultaneously and hydroelectric power stations were in place at the same time. As of now, the hydropower plants identified are subject to approximately 7 billion dollar investment. The Government of Georgia is very active in all specific projects. In fact, at every session of the government, the Ministry of Energy presents new memorandums that are already being developed with potential owners of hydropower plants."
In addition, Dimitry Kumsishvili clarified about the unification of the Ministry of Energy with the Ministry of Economy and Sustainable Development of Georgia. "The Ministry of Energy will not be abolished. I would rather like to emphasize that energy is one of the most important directions of our economy, which keeps up with the optimization process and of course we will not diminish or reduce any attention to this direction," - the First Vice Prime Minister commented.