NEWS / Dimitry Kumsishvili Held Meeting with EBRD Vice President
08 December 2017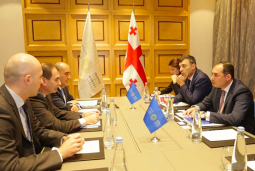 Within the framework of the Tbilisi Belt & Road Forum, the First Vice Prime Minister of Georgia, Dimitry Kumsishvili held a meeting with the EBRD Vice President, Alain Pilloux.
Significance of the Forum, which is held by Georgia in close cooperation with the EBRD, was evaluated during the meeting. As Alain Pilloux noted, Georgia is the leader of the second wave reforms in Eastern and Central Europe. The EBRD Vice President said that Georgia's progress, the activity and reforms by its Government, open market and the Free Trade Agreements with different countries are very important.
The EBRD Vice President also highlighted the reforms implemented within the 4-point plan of the Government and noted that Georgia has a huge potential for further development. As it was noted during the meeting, the EBRD is going to implement 3 million EUR investments in Georgian economy.
Dimitry Kumsishvili expressed gratefulness to Alain Pilloux for the support. The First Vice Prime Minister said that the EBRD is implementing very important projects with investment value of hundreds of million EUR. As the Economy Minister noted, the Tbilisi Belt & Road Forum, which is held with the support of the EBRD, is the best platform for encouraging international financial organizations to implement even more significant projects in Georgia.