NEWS / Bruno Balvanera on EBRD Energy Sector Projects in Georgia
08 December 2017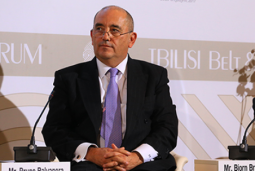 Director of the European Bank for Reconstruction and Development (EBRD) in South Caucasus, Moldova and Belarus, Bruno Balvanera delivered a speech at the Tbilisi Belt & Road Forum. At the Panel of Inter-agency Opportunities for Energy, Bruno Balvanera talked about the projects implemented in Georgia as well as in the region as a whole.
"We have created 394 megawatts of water energy in Georgia. Projects included the Enguri, Adjaristskali and Paravani hydropower plants. Currently we are working on a huge project of the Nenskra hydropower plant, which will be the largest hydro-construction in the region. It's about billions of dollars invested. We have a team of community friendly professionals who successfully discuss and cope with challenges," - Bruno Balvanera.
EBRD Director in South Caucasus, Moldova and Belarus also highlighted the importance of the Baku-Tbilisi-Ceyhan project and reviewed the Shah-Denis project in his speech. According to Bruno Balvanera, after 25 years, the EBRD signed the largest financial project (500 million USD) last month: "It is the EBRD's biggest contribution to this project, which provides transportation of natural gas to Italy via Azerbaijan, Georgia and the Caspian Sea. This project is considered as the largest transaction in history by the BP."
As reported by Bruno Balvanera, renewed energy for the ERDB is of utmost importance: "We started to use the water energy, the potential of which is unlike to many countries, not only in Georgia but in the whole region as well. Besides, wind and sun renewable energy is of high importance, too."
According to Bruno Balvanera, among the EBRD projects of wind, sun and water energy, Georgia takes the third place, after Romania and Poland.