NEWS / Anaklia Port Signed Memorandum of Cooperation with Azerbaijan and Kazakhstan Ports
08 December 2017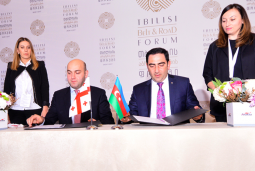 Within the framework of the Tbilisi Belt & Road Forum, the Anaklia Development Consortium signed the agreements on cooperation with the trans-Caspian ports.
The Memorandum of Cooperation was signed by the representatives of the Baku International Sea Trade Port and the Kazakhstan Port of Kuryk and the CEO of the Anaklia Development Consortium, Levan Akhvlediani. Baku International Sea Trade Port was represented by its Director-General, Taleh Ziyadov while the Kuryk Port was represented by the Deputy CEO of the Port, Talgan Ospanov and the CEO of the Seymurg Invest, Iskander Abdulkhalimov.
Agreements between the ports will facilitate the development of the trans-Caspian corridor and create competitive conditions for the freight transportation upon the completion of the Anaklia port.
In the nearest future, the Anaklia Port plans to sign a memorandum of cooperation with the Romanian port of Constanta.
The projects of the Deep Sea Port, Anaklia City and special economic zone are actively discussed at the Tbilisi Belt & Road Forum. The Anaklia Port is one of the main partners and sponsors of the Forum.
Anaklia Port, being considered as the significant crossroads of Europe and Asia and the source of new capabilities, will be discussed at the different panels of the Forum in terms of being one of the main strategic projects in the development of the intermediate corridor. Representatives of the Anaklia project will hold B2B meetings with over 30 companies participating in the forum.
Construction of the Anaklia Drainage Port starts on December 20, 2017. The opening of the first phase of the Port is scheduled by 2021. The first ships are expected at the very time as well.