31 August 2017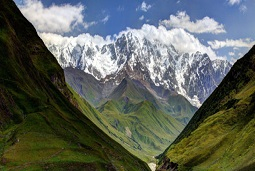 Diverse locations, an appealing urban vibe of old-meets-new and a 20% cash rebate are putting Georgia on the map. Louise Tutt reports.
A former Soviet socialist republic, in the heart of the Caucasus region where Europe becomes Asia, the nation of Georgia possesses the kind of breathtaking scenery that appeals to international film and TV producers. Craggy mountains, rivers, lakes, forests, a desert and a picturesque Black Sea coastline of sandy beaches and charming seaside villages are all within a day's reach of each other and their diversity allow filmmakers to shoot four seasons in one day. A production can capture snow-topped mountains in the morning and be in a sun-drenched cove in the afternoon.
Since March 2016, five international features have shot in Georgia, drawn by a financial incentive that returns up to 25% of eligible costs. They include Nana Ekvtimishvili and Simon Gross's My Happy Family, a Germany-Georgia-France co-production that shot in the capital of Tblisi and screened at Sundance earlier this year, and the upcoming Halo Of Stars, a US indie directed by Anthony Lucero, which also shot in the capital. The film stars Lily Collins and Holliday Grainger. Three Bollywood films have also accessed the new incentive: First Frame Entertainment's Gautamiputra Satakarni, directed by Krish Jagarlamudi; Jyostar Enterprises' PSV Garuda Vega, directed by Praveen Sattaru; and Machine, directed by Abbas and Mastan Burmawalla.
The Lowdown
Financial incentives
The government launched the 'Film in Georgia' incentive in March 2016 aimed at local and international features (including animations) and TV series and films spending at least $250,000 in Georgia. International documentaries, commercials, reality TV shows and music videos spending at least $150,000 are also eligible. The incentives offers a 20% cash rebate on these qualifying costs rising incrementally to 25% depending on how much Georgia is depicted culturally on screen. There is no cultural test for the latter as the finished film is assessed by the Film In Georgia organisation. Costs are lower across the board compared with similar locations in Western Europe and Film In Georgia estimates a day shooting a feature film to be budgeted at between $15,000-$25,000.
Full details can be found at www.filmingeorgia.ge
Infrastructure and crews
The country is gaining a reputation as a film-friendly location, which doesn't require shooting permits and has minimal bureaucracy. Productions can shoot for free in most state-owned buildings, derelict factories, roads, parks and open spaces. The majority of crews – but not all – speak English. My Happy Family used a predominantly Georgian crew. "Georgians are very flexible and are very good at improvising," says Simon Gross, co-director and producer of My Happy Family. "If there is a problem, they always find a solution in short time, which works." Studio facilities can be found at the newly-refurbished, state-owned Georgian Film Studio and the slightly smaller Le Khaindrao, which also operates as a production services company.
Size matters
Georgia is a relatively small country and can be crossed by car in five or six hours via the good road network. It has three international airports with direct flights from major European cities, including Munich, Frankfurt, Vienna and Warsaw. People coming from London, Paris and the US need to change in one of these cities. Tblisi itself is easy to get around and is a engaging city which embraces its history with both Brutalist architecture and Byzantine arches sitting alongside design-led 21st-century boutique hotels and pretty streets of houses with ornately carved wooden balconies.
Simon Gross, co-director and producer, My Happy Family, says:
"The great thing about Georgia is that it has an enormous variety of landscapes and climate. You can find everything from mountains, rivers and lakes, beautiful forests and different kind of old villages, also desert and the seaside. And the distance between all these locations is not big."
Would he come back?
Yes
First person to call
Lika Mezvrishvili, head of the cash rebate programme at Film In Georgia,
lmezvrishvili@enterprise.gov.ge
Need to know
DO bear in mind the national religion is Christian Orthodox and plays a major part in day-to-day life in Georgia.
DON'T miss a visit to the vineyards in the wine region of Kakheti, just 45 miles east of Tblisi. Georgians use a unique clay pot method of making wine. The red is particularly good.
DO visit the cave city of Vardzia in southern Georgia, the residence of the legendary Queen Tamar (1184 to 1213), known as Tamar the Great.
DO try the delicious traditional khinkali dumplings.
DO listen to the nightly live music on Akhvlediani Street in Tblisi.
DO check out music opportunities. Flanders is a major player in the world of film music. Scoring Flanders — a partnership between Brussels Philharmonic, sound post-production house Galaxy Studios and Film Fest Gent — has worked on a range of major movies including Martin Scorsese's The Aviator, Oscar winner The Artist and on TV dramas such as Parade's End and The White Queen.
DO get in touch with tourism boards to get the best available hotel rates.
Source: Worldoflocation.com